Wedding catering services
We make sure your wedding day is full of culinary delights, prepare SUPER food, organise a SUPER event and take care of all the details, so your wedding day is truly special.
We firmly believe that your wedding day must be the most beautiful day. We know how important your wedding reception and catering is and always choose an individual and comprehensive approach and perfect every detail, associated with the wedding festivities.
Our wedding consultant listens to your wishes and advises you in all areas of wedding preparations. We can organise your wedding celebration in any desired location, including a sandy beach or mountain peak and transform any average location into a fairy-tale one. We are your partner in the preparation and choice of catering, cooperate with you during the selection of fine accessories, as well as the choice of location, the entire scenery, sound system, setting up the stage and finally lighting.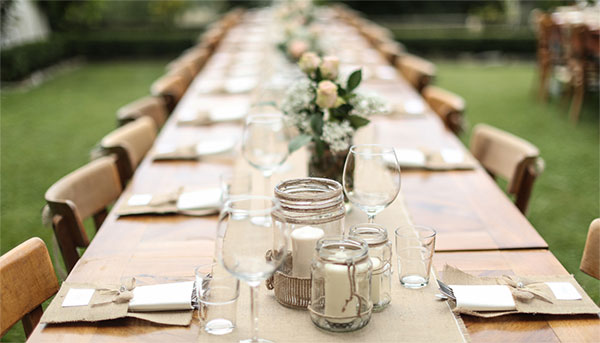 It is omportant to us that you have a SUPER time.
The celebration of your love is realised in all weather conditions at the selected location, regardless of the number of guests; we are with you in good times and in bad until the end. Besides good and quality food, full of flavours and magical combinations, we also have friendly and professional staff. Wedding catering includes carefully selected food, a ready-to eat menu and chefs, who create beautiful and delicious food combinations and make sure they are attractively presented. Our sophisticated accessories and the appearance of the location only add a cherry on top of the celebration.
Wedding catering is one of our great passions. With SuperCatering your wedding day will be beautiful and carefree. Fill in the inquiry below and we will be happy to make sure your day will be as desired.
Send us an inquiry
Fill in the information you have. With all the rest, we will be happy to help you ... In case of additional needs, you should write it down under the comment. We look forward to your demand!
Thank you! Your submission has been received!
Oops! Something went wrong while submitting the form